It's Friday, which means it's time for a new set of Three Astronaut Facts. This week, we'll highlight Dr. Rhea Seddon, another astronaut who will be appearing as part of our Thought Leader Series June 28.
This event, featuring fellow 1978 astronaut classmates Shannon Lucid and Dr. Anna Fisher, sold out in the first day tickets were available. If you didn't get a ticket, we will be streaming the event live on Facebook Live that evening.
Now, onto the facts!
Three Facts about Dr. Rhea Seddon

1) Seddon is a medical doctor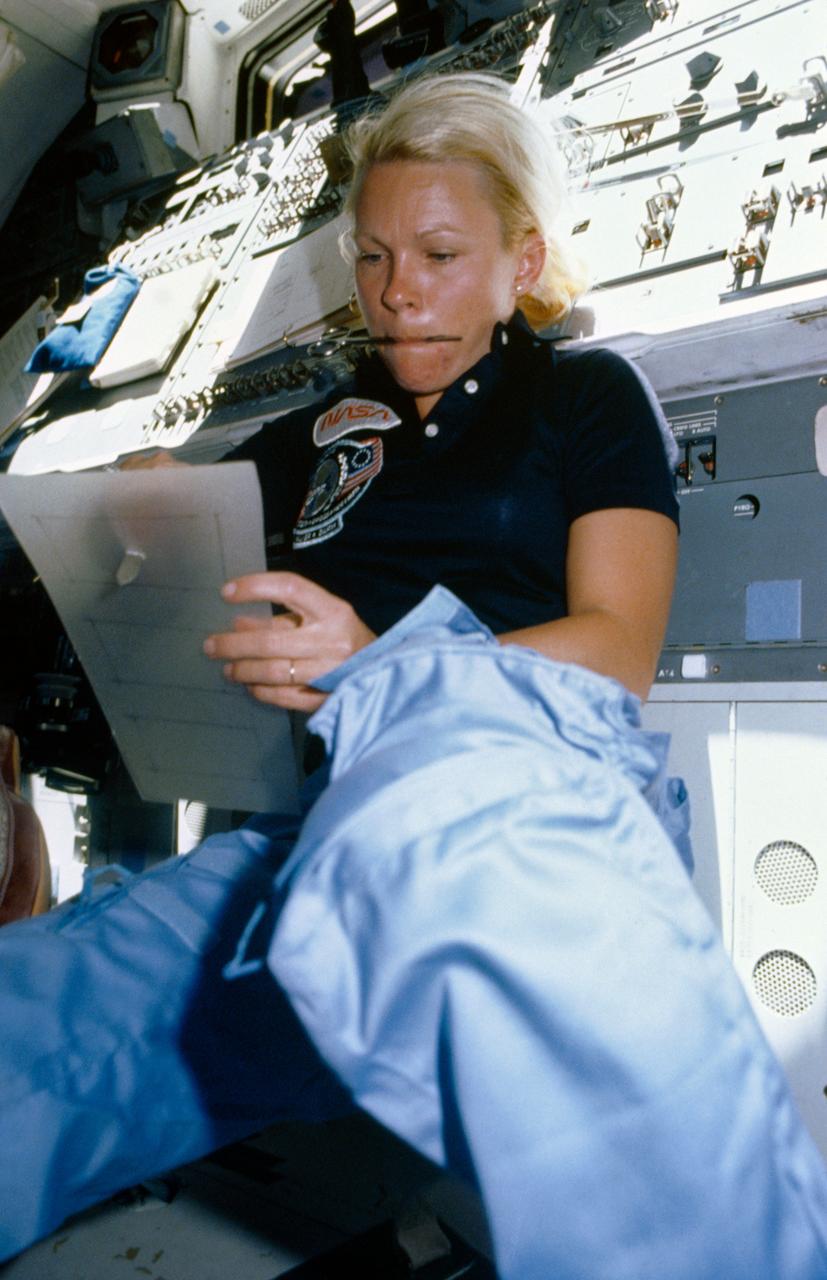 Dr. Rhea Seddon aboard the space shuttle.
Although she wasn't the first medical doctor in space, Seddon joins a pretty prestigious list. Joe Kerwin beat her by 12 years, launching as part of Skylab in 1973 to become the first medical doctor in space.
Seddon followed him 12 years later. The Tennessee native got her medical degree in 1973, completing a surgical internship and three years of residency in Memphis. She also worked as an Emergency Room physician, something she did on and off for the rest of her career.
Seddon was selected as an astronaut in 1978. After retiring from NASA in 1997, Seddon continued her medical career, serving as Assistant Chief Medical Officer of the Vanderbilt Medical Group in Nashville for 11 years.
2) Seddon participated in two Spacelab missions
You probably have heard of Skylab. That was America's first space station. But, are you familiar with Spacelab?
Spacelab was a reusable laboratory that could be added to the cargo bay of the shuttle orbiters. It had multiple components which allowed astronauts to perform experiments in more space than the somewhat cramped shuttle main deck.
Spacelab flew on 32 shuttle missions and Seddon participated in two of them. Her second flight with Spacelab, STS-58 aboard Columbia, was hailed as the most efficient mission the lab had flown yet.
Seddon helped perform neurovestibular, cardiovascular, cardiopulmonary, metabolic, and musculoskeletal medical experiments on themselves and 48 rats, expanding our knowledge of human and animal physiology both on earth and in space flight.
That kind of research continues to this day, leading to astronauts like Kate Rubins getting heart cells to beat aboard ISS.
3) She was part of the first astronaut couple
Though she wasn't the first astronaut to get married, Seddon was the first astronaut to get married to another astronaut. She and Robert "Hoot" Gibson were the first two to marry each other. The two wed in 1981, three years after they were both selected as part of the astronaut class of 1978.
That was the first new class of astronauts since 1969. In this blog post, Seddon describes jetsetting around the country in T-38 training jets with Gibson.
"Tinker Air Force Base in Oklahoma was a nice distance away, and their base café served a great lunch: the renowned Tinker Burger," Seddon wrote. "And in El Paso, we could borrow the airport car and go out for Mexican food and pick up fresh, warm tortillas to-go. We could even "borrow" the jets for the weekend.
"Once I was engaged to Hoot Gibson, weekend trips became a part of our lives. We'd often fly to see our families—Los Angeles for his, Tennessee to see mine. When we needed a beach vacation, my sister lived near Homestead Air Force Base in south Florida. Also, we would fly to San Diego to visit his young daughter, Julie, on a regular basis. Women flying in jets were still rare back then. Imagine the surprise of the ramp crewman who came out to welcome us to the airport when the flyer in the back seat of the plane took off her helmet and out cascaded long blonde hair.
"As with the family car, there were rules. The planes could be checked out on Friday afternoon, but they had to be returned by Sunday evening. Planes had to be refueled at military bases or at places that offered military rates for fuel. And there would be heck to pay if you brought one back with scratches or dents."