One of the new features on our site will be a weekly post discussing astronauts and things you may not know about them. Our first spotlight falls on Dr. Shannon Lucid, who will be appearing as part of our Thought Leader Series June 28.
This event, featuring Lucid and fellow 1978 astronaut classmates Dr. Rhea Seddon and Dr. Anna Fisher, sold out in the first day tickets were available. If you didn't get a ticket, we will be streaming the event live on Facebook Live that evening.
Now, onto the facts!
Three Facts about Dr. Shannon Lucid
1) She traveled 89 million miles in orbit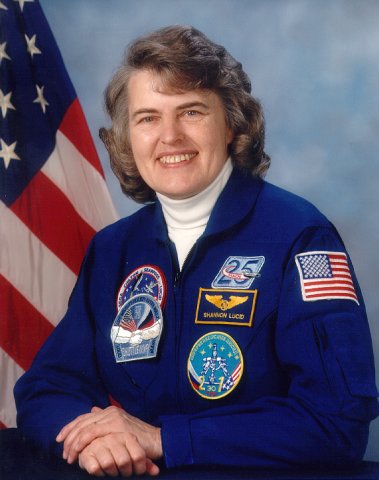 NASA astronaut Shannon Lucid
Lucid made five spaceflights.
She spent seven days aboard the shuttle Discovery on STS-51G, going around the Earth 112 times. Her next mission was on STS-34 aboard the Atlantis, making 79 orbits. Her third trip was in 1991, again aboard Atlantis, when she spent 9 days in space and went 142 times around the Earth.
Her fourth mission came aboard STS-58 in 1993 and the shuttle Columbia, spending 225 orbits around the Earth.
Finally, Lucid was on Space Station Mir from March through September 1996, earning her the U.S. single-mission spaceflight endurance record, which was only broken by Scott Kelly's year in space.
2) She was the first American woman to hold an international record for most spaceflight hours
NASA records are made to be broken. Lucid didn't relinquish her spot on the spaceflight hours list until June 2007.
Until then, her time in space was equaled by very few people. Part of that experience came when she was onboard Mir. Assigned as a board engineer 2, she performed numerous life science and physical science experiments during the course of her stay aboard Mir.
The Shuttle-Mir Program was filled with historic 'firsts.' NASA astronaut Norman Thagard became the first American aboard the Mir Space Station, where he spent 115 days with his Russian counterparts in March-July 1995. Later that year, STS-71 became the first shuttle to dock with Mir.
Between March 1995 and May 1998, NASA and Russian scientists conducted experiments designed to answer vital questions about how humans, animals and plants function in space, how our solar system originated and developed, how we can build better technology in space and how we can build future space stations.
From February 1994 to June 1998, space shuttles made 11 flights to the Russian space station Mir, and American astronauts spent seven residencies onboard Mir. Space shuttles also conducted crew exchanges and delivered supplies and equipment.
3) She was born in Shanghai, China
Though Lucid considers Bethany, Oklahoma her home, Lucid was born in China. She was the only member of the NASA astronaut corps to be born on mainland Chinese soil. The daughter of Baptist missionaries, Oscar and Myrtle Wells, Lucid was born in Shanghai.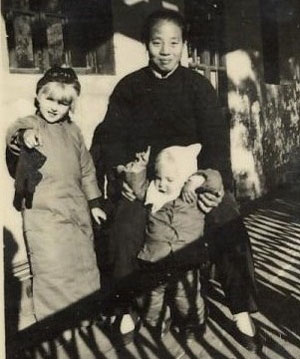 Shannon Lucid and her younger brother Joe with an unidentified Chinese woman. Image Courtesy of Shannon Lucid.
As an infant, in 1943, during the height of World War II, Shannon was held captive along with her parents, aunts and uncle, and grandparents, by the Japanese Army in Shanghai's Chapei Civil Assembly Center prison camp.
Shannon learned to walk in early 1944 onboard the Swedish ship Gripsholm, the world's first transatlantic motorship, which transferred Shannon and her parents back to the United States as part of a peaceful exchange of noncombatant citizens of the warfaring nations. The Gripsholm made its way back to the U.S. via India and South Africa. While in port in Johannesburg, Shannon received her first pair of shoes.
Lucid went back to China with her parents later in her childhood as they continued to work as missionaries. The photo to the right depicts one of these trips. In 2006, Lucid went to China with NASA Administrator Michael Griffin, touring several aerospace facilities in Beijing and Shanghai, including facilities where Chinese spacecraft and payloads are developed.
During her childhood time in China, she recalled constant attention because of her blond hair and blue eyes, and wondering why she couldn't have "black hair and brown eyes like everyone else." Her father took this as an opportunity for a teaching moment, telling Shannon, "You have to be happy with the way you are. That's the way God created you."
At age five, Shannon took her first plane ride along with her mother, brother and sister, to a mountainous region of China, where they joined her father. As that DC-3 turned on final approach to a smooth touchdown on a gravel runway, Shannon thought to herself, "That's the most remarkable thing that a human being can do. I'm going to do that when I grow up."