Space Center Houston's Leadership Development and Training Program, the Human Performance Accelerator Lab has partnered with Microsoft to create the Accelerate Space Workforce Development Program.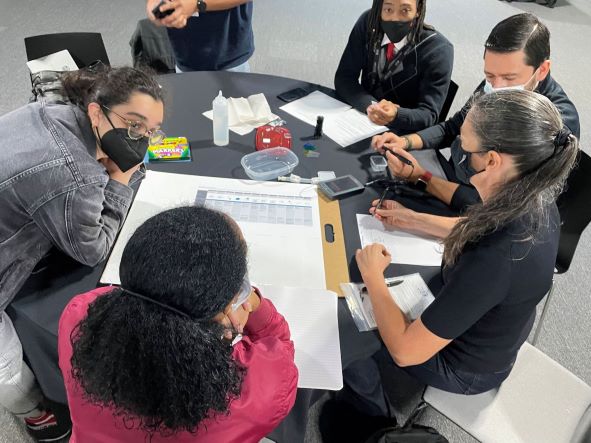 The program is focused on upskilling workers and preparing them to find employment in the Houston aerospace industry. By growing the skillset of people in our community, we hope to bolster efforts to create, sustain, and retain a viable workforce that fuels the aerospace industry to benefit the overall Houston region and the local economy.
Over the last four months, 40 Accelerate Space cohort members engaged in virtual and hands-on training sessions on resume writing and participated in mock interviews.
The sessions covered a variety of NASA and commercial space industry developments and how it relates to professional skills, including project management, digital techniques, embracing uncertainty, taking calculated risks, and leadership dynamics.  At the conclusion of the cohort, its members are able to begin sharing their new knowledge and enthusiasm with others.
---
This program has definitely helped me improve on some skills that I had already, as well as develop new skills. Each session whether it was online or in-person, was very entertaining, informative, and peaked my interest even more in the space industry.
Saul Castillo, cohort member
---
Cohort members worked in teams of three to four people to reach out to aerospace employees to capture stories and document possible career paths in the aerospace industry and with the public to test their awareness of the space industry. Through video, presentations, and surveys, teams used their diverse educational backgrounds to discuss robotics, gender representation, satellites, and crop production in space.

Outreach project – Crew D Heba Afzal, Oscar Neira, Joshua Flores, and Kendra Coronado interview NASA employee Mike Sovinsky.
Reaching nearly 200 people virtually, cohort members aim to drive curiosity in space exploration among the general public and build support to advance space exploration and further scientific discovery. Just as they are finding their place in the aerospace workforce, they hope that discussions with aerospace professionals will help others discover a path to being a part of this growing field.
---
I would say that the program has definitely pushed me to think more about myself, my skills, and how I can fit within the aerospace industry. Trying to embrace uncertainty in a time like this is difficult, but at the same time with so much turmoil going on in the job markets, now is the time to take those calculated risks.
Andrea Speakman, cohort member
---
Space Center Houston is committed to supporting people in our community and enabling them to grow, furthering the Houston workforce. It's our goal to not just provide training skills; we want to change mindsets and empower professionals to be leaders in their organizations.
The goal for many of the cohort members is to obtain jobs, internship opportunities, and strategies to develop their career. We are excited to see where these leaders go from here.
Apply today for Space Center Houston's Accelerate Space program.