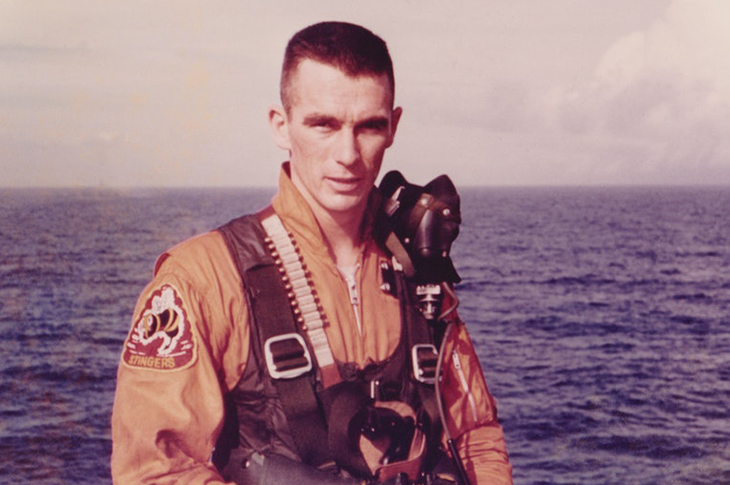 There's still time to see January's Space on Screen. "The Last Man on the Moon" provides a unique, raw look into one man's part in "mankind's greatest adventure," a story full of love, loss, and fulfillment. The special screening is this Friday in our five-story-tall Space Center Theater. Guests speakers at this screening will include Cernan's former wife Barbara Cernan Butler and his daughter Tracy Cernan Woolie.
In December 1972, Eugene Cernan became the last man to walk on the Moon, leaving behind only his footprints and daughter's initials in the lunar dust. Forty years after the final lunar landing, Cernan reflects upon his remarkable journey and extraordinary life.
Tickets are $8 for the public and $5 for members. There is limited seating for these events, so get your tickets today.
Buy tickets
Cernan was the 11th person to walk on the moon, but his career left a much wider mark than just those footprints in the lunar soil. Cernan served as a pilot in the Navy, had a Bachelor of Science degree in electrical engineering, a Master of Science degree in Aeronautical Engineering and flew into space three times. He also earned two NASA Distinguished Service medals, two Navy Distinguished Service medals and the Navy's Distinguished Flying Cross.
During his first trip into orbit aboard Gemini 9, Cernan became the second American to take a spacewalk. Cernan also descended towards the moon in the lunar lander during the Apollo 10 mission but did not land. As such, he's the only person to have made two different lunar descents.
Cernan was the commander of Apollo 17, leading Harrison Schmidt down to the lunar surface in the lander "Challenger." Their command module, America, is on display in Space Center Houston's Starship Gallery.
In all, the astronauts brought back 243 pounds (110 kilograms) of lunar samples and spent 75 hours on the surface of the moon.
Cernan's final words from the moon voiced an idea he championed throughout his life: that he not be the final person to stand on that lunar soil.
"America's challenge of today has forged man's destiny of tomorrow," Cernan said. "As we leave the moon and Taurus-Littrow, we leave as we came, and, God willing, we shall return, with peace and hope for all mankind."
Cernan left a remembrance of his family on the lunar surface when he drew the initials of his daughter, Tracy, into the soil there. He was convinced those initials and his final footprints will be joined soon by the next generation of explorers.