On just her second spaceflight, Expedition 16, NASA astronaut Peggy Whitson became the first woman to command the International Space Station.
This year marks a milestone in spaceflight history, 20 years of continuous human presence aboard the International Space Station (ISS).
As we celebrate this monumental anniversary and honor the incredible work that has been done throughout the years onboard this orbital laboratory, we are highlighting some of the key moments and missions that have contributed to a rich and exciting history of life on station.
One such moment and mission, was when NASA astronaut Peggy Whitson flew into space on her second voyage to the ISS. She rocketed into space onboard a Soyuz spacecraft for Expedition 16 and became the first female to command the station.
Expedition 16
Expedition 16 launched on Oct. 10, 2007. Onboard the Soyuz spacecraft were Whitson and Russian cosmonaut Yuri Malenchenko. Their third Expedition 16 crew member changed out with the arriving shuttle missions to the station which included NASA astronauts Clay Anderson, Dan Tani, Garrett Reisman and European Space Agency astronaut Leo Eyharts.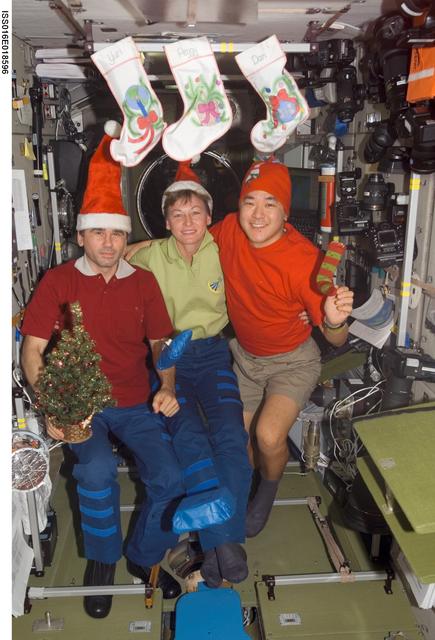 The Expedition 16 crew was tasked with overseeing the first expansion of the station's work and living space in over six years.
Station and shuttle crews added many elements to the ISS during Expedition 16 including the Harmony connecting node and the European Space Agency's Columbus laboratory.
Experiments were conducted on topics including Earth observation and human life sciences. Technology and outreach demos were also performed during Whitson's stay on station.
Since Expedition 16 was a long duration spaceflight, some of these experiments centered around studying the effects of long duration spaceflight on the human body in an effort to better prepare future space explorers for missions to the Moon and beyond.
Expedition 16 concluded with the safe return of both Whitson and Malenchenko on April 19, 2008.
As previously mentioned, Expedition 16 was Whitson's second spaceflight, but her first as station commander. She conducted five spacewalks for station assembly and maintenance and logged a total of 192 days in space for this long duration flight.
NASA astronaut Peggy Whitson
Prior to becoming an astronaut, Whitson worked for NASA. The accomplished biochemist applied several times to become an astronaut and was rejected. However, failure was not an option. She never gave up and was selected as a NASA astronaut in 1996.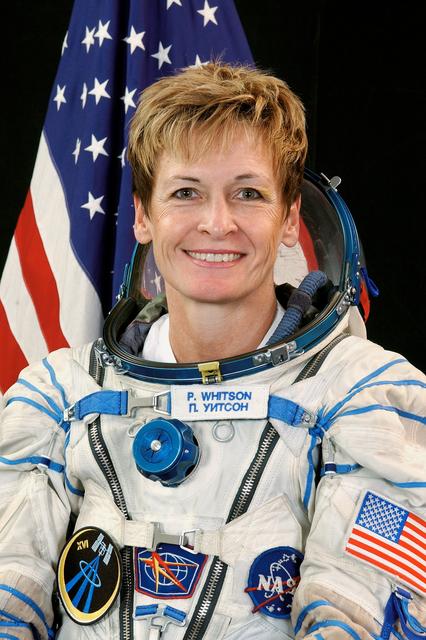 In total, Whitson has completed three long-duration stays onboard the ISS:
Expedition 5 (2002)
Expedition 16 (2007-2008)
Expedition 50/51/52 (2016-2017)
She became NASA's first ISS Science Officer during her first flight (Expedition 5), the first female ISS commander with her second (Expedition 16), and the first two-time female commander of the ISS with her third and final stay on station (Expedition 50/51/52).
She has conducted 10 spacewalks totaling 60 hours and 21 minutes, holding the record for most spacewalks by a female astronaut. Whitson has also logged 665 days in space, the most for any American astronaut, placing her in the eighth spot on the all-time space endurance list.
From Oct. 2009 to July 2012, Whitson served as the Chief of the Astronaut Corps, the first woman and non-military astronaut to fill the role.
In 2018, Whitson retired from NASA.
Read more about 20 years of continuous human presence onboard the ISS with this blog post, and learn more about the first women in space here.