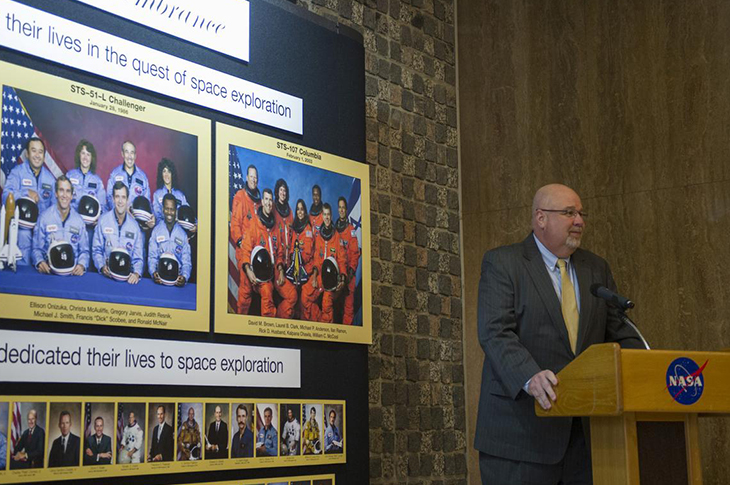 On Jan. 27, 1967, NASA lost astronauts Virgil "Gus" Grissom, Roger Chaffee and Ed White in the Apollo 1 fire.
On Jan. 28, 1986, tragedy struck again as NASA lost astronauts Dick Scobee, Michael Smith, Ronald McNair, Ellison Onizuka, Judy Resnik, Gregory Jarvis and Christa McAuliffe as part of the space shuttle Challenger disaster.
On Feb. 1, 2003, a third fatal accident claimed the lives of Rick Husband, William McCool, Michael Anderson, Kalpana Chawla, David Brown, Laurel Clark and Ilan Ramon as they returned on space shuttle Columbia.
NASA remembers all of these brave souls every year as part of their Day of Remembrance. This ceremony takes place in different ways at all of the NASA facilities. At NASA Johnson Space Center, there is a Memorial Grove of trees planted in memory of fallen astronauts and mission control personnel.
NASA Administrator Jim Bridenstine tweeted out his condolences Monday on the anniversary of the Challenger tragedy.
33 years ago today, @NASA lost seven crewmembers on the Shuttle Challenger.

As President Ronald Reagan said that day, "The crew of the Space Shuttle Challenger honored us by the manner in which they lived their lives. We will never forget them." pic.twitter.com/hpVvT1oPxN

— Jim Bridenstine (@JimBridenstine) January 28, 2019
Here's a video of the ceremony honoring Challenger from the Day of Remembrance 2018 website:
On Feb. 25, Space Center Houston will host its next Thought Leader Series centered on how NASA moved forward from these tragedies, what it learned from each of them and how they made spaceflight safer as a result of those findings.
Former shuttle flight director Wayne Hale, Jacobs vice president Lon Miller and NASA Johnson Space Center deputy engineering director Julie Kramer White will discuss the applications of lessons learned from human space flight tragedies.
Learn more about this event here.