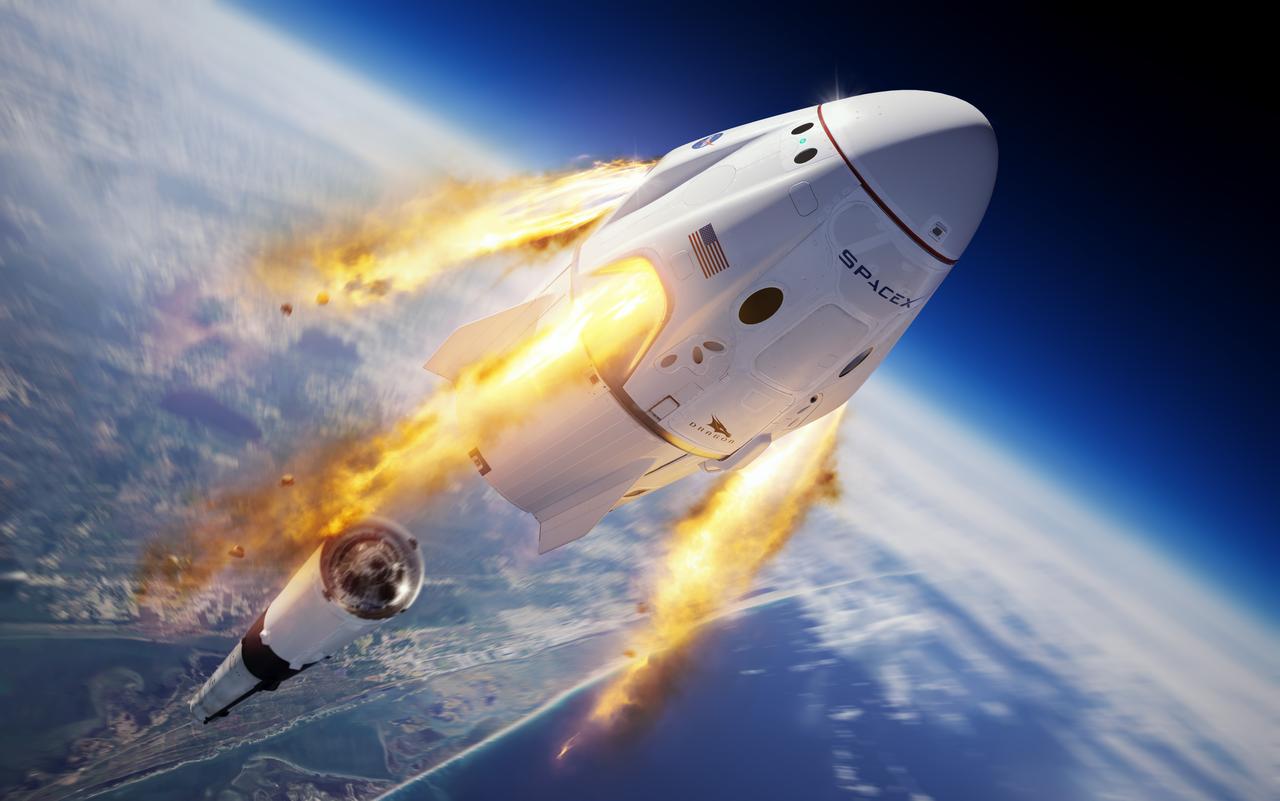 NASA's return to launching astronauts from American soil took another step forward earlier this month. SpaceX had a successful test of the in-flight abort capabilities of its Dragon capsule aboard a Falcon 9 rocket.
What does all that mean? Find out here!
What happened?
NASA and SpaceX completed a launch escape demonstration of the company's Crew Dragon spacecraft and Falcon 9 rocket on Jan. 19. The launch escape test began at 10:30 a.m. EST with liftoff from historic Launch Complex 39A at NASA's Kennedy Space Center in Florida on a mission to show the spacecraft's capability to safely separate from the rocket in the unlikely event of an inflight emergency.
As part of the test, SpaceX configured Crew Dragon to trigger a launch escape about 1.5 minutes after liftoff. All major functions were executed, including separation, engine firings, parachute deployment and landing. Crew Dragon splashed down at 10:38 a.m. just off the Florida coast in the Atlantic Ocean.
Here is a video of the entire test.
What does that mean?
This was the final major flight test of the spacecraft before it begins carrying astronauts to the International Space Station under NASA's Commercial Crew Program.
NASA's Commercial Crew Program is working with the American aerospace industry as companies develop and operate a new generation of spacecraft and launch systems capable of carrying crews to low-Earth orbit and the International Space Station. Commercial human space transportation to and from the station will provide expanded utility, additional research time and broader opportunities for discovery on the orbiting laboratory. The program also has the benefit of facilitating and promoting for America a vibrant economy in low-Earth orbit.
Why is it important?
It's a very good thing for NASA, as it puts them closer to taking back control of launching its astronauts to ISS. "This critical flight test puts us on the cusp of returning the capability to launch astronauts in American spacecraft on American rockets from American soil," said NASA Administrator Jim Bridenstine. "We are thrilled with the progress NASA's Commercial Crew Program is making and look forward to the next milestone for Crew Dragon."
NASA hasn't launched astronauts from U.S. soil since the Space Shuttle Program flew its final mission in 2011.
The launch abort test is also critical, as two ISS fliers found out in 2018. That's when the launch of Expedition 57 went into an abort procedure due to a rocket booster failure. Astronaut Nick Hague and cosmonaut Aleksey Ovchinin were ejected from the rocket, keeping them safe. It was the first crew booster accident in 35 years for Russia, but underscores the importance of these safety measures for the Dragon capsule.
When is the next mission?
This was the final hurdle for the Dragon crew capsule before it can ferry NASA astronauts to the International Space Station. The current plan is to launch the first crew later this year, possibly as early as May.
Astronauts Doug Hurley and Bob Behnken have been training as part of SpaceX's Commercial Crew program and will fly to ISS as part of the mission.
"The past few days have been an incredible experience for us," said Hurley, after the abort test. "We started with a full dress rehearsal of what Bob and I will do for our mission. We watched the demonstration of a system that we hope to never use, but can save lives if we ever do. It took a lot of work between NASA and SpaceX to get to this point, and we can't wait to take a ride to the space station soon."
Hurley and Behnken were both highlighted in our Astronaut Friday blog series last year.