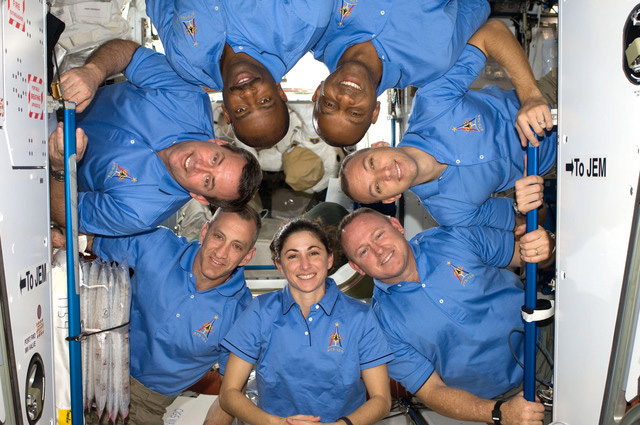 This past year has been an exciting time in commercial spaceflight. As such, our Space Exploration Educators Conference keynote sessions this year will highlight the best of spaceflight.
Our first keynote will bring together crew from STS-129 for a talk entitled, "You Never Know Who You Will Inspire: A candid discussion with STS-129 Mission Specialists." Astronauts Mike Foreman, Leland Melvin, Nicole Stott, and Bobby Satcher will discuss how their backgrounds inspired them to reach for the stars.
Commander Charlie Hobaugh led the STS-129 mission to the International Space Station aboard space shuttle Atlantis. Mission specialists were Robert Satcher, Michael Foreman, Randy Bresnik and Leland Melvin. The mission returned station crew member Nicole Stott to Earth. STS-129 was the final space shuttle crew rotation flight to or from the space station.
Friday's keynote will feature NASA Associate Administrator Mike Kincaid and Howard C. Hu, Deputy Program Manager, Orion Program, NASA-Johnson Space Center. In this talk, you'll learn about the newest initiatives from NASA's Office of STEM Engagement.
As associate administrator, Mike Kincaid oversees strategic direction and leadership of NASA's science, technology, engineering, and mathematics (STEM) engagement function, which attracts and supports the involvement of students in the realization of NASA's unique missions. Hu leads the design, development, test, verification, and certification of NASA's next generation human-rated spacecraft for the Artemis missions.
In Saturday's keynote, meet Blue Origin's Audrey Powers who flew on the second human flight of Blue Origin's New Shepard program, NS-18. Powers, the Vice President of Mission & Flight Operations for Blue Origin, is responsible for New Shepard flight operations and training, vehicle maintenance, and launch complex infrastructure at Launch Site One.
Register now!